i braved the record breaking winds today and went downtown again. after stocking up on maple syrup and other goodies (and getting a nice coriander laden vegie burger from a hole in the wall "gorilla food bar", which sold organic vegan raw food) i went to the art gallery and saw the exhibition of emily carr's work they have up at the moment. she was a bc artist who did lots of forests and totem poles. my favourite is the first picture below. it was odd looking at the forest paintings, because they are so emotive and bold, with big swirls of colour and i could see that they were beautiful, but they were just so foreign.
there was a couple of other fun exhibitions upstairs, including some very weird installation art, which is always fun, and some nice portraits.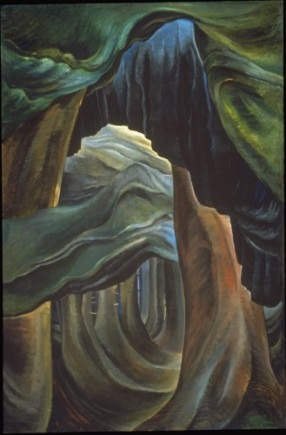 "Forest, British Columbia," oil, 1932, 130 x 86.8 cm.
" Kitwancool Totems", 1928.
| | |
| --- | --- |
| | "Indian Church". 1929. Oil on canvas, 108.6 x 68.9 cm |